Vehicle Wraps
» Click here to View Related Links
Vehicle Wraps are a cost effective way to advertise your brand or promote your company's services with no long term advertising charges to worry about. They are becoming an increasingly popular form of advertising with wide ranging applications in many business sectors.
Uses of vehicle wraps
Advertising

– to promote a brand or service

Marketing

– to create awareness for new product launches

Company livery

– to ensure uniformity, reinforce branding and create a positive company image. Often employed by estate agents, sales fleets or delivery vans and trucks belonging to large retail chains.
Superchrome vehicle wraps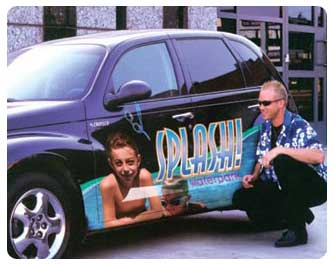 Superchrome, a top notch supplier of
vehicle wraps
, can transform any company vehicle into a moving billboard with cutting edge designs that can be created in a surprisingly short time.
Our vehicle wraps are not just for cars but can be applied to any motorised transport - motorcycles, buses, vans and trucks – making them a quick, easy solution for applying company livery to commercial vehicles, much quicker and cheaper than repainting. Superchrome can provide simple cut vinyl graphics or full colour printed wraps to create attractive brand images that will achieve the result you want.

The latest development is perforated vinyl which is especially suited for window graphics. Perforated vinyl allows the image to be seen on the window glass from outside, while at the same time maintaining full visibility from inside. It meets health and safety regulations for driving visibility.

Vehicle wraps are designed to offer high resistance to fading and the effects of weather and will protect the vehicle paintwork from ultraviolet radiation. They are easy to maintain and require no special care. However, they are not permanent. The graphics can be quickly removed without causing damage to the vehicle's paint, if your vehicle's lease time expires or when your advertising campaign finishes.
Additional services
Design advice
– We will consider your business and your goals and then merge that understanding with the latest vinyl graphic solutions to advise you on how best to create eye catching designs that will get your business noticed.
Installation – Application of vehicle graphics, particularly whole vehicle wraps, is a highly specialised task. Superchrome can offer a complete design, print and installation service. Contact us for a quote and further details.
CONTACT SUPPORT
Every file that you upload will
be managed by an account
representative to ensure that
your order receives the
attention it needs.