WHAT IS HOARDINGS ?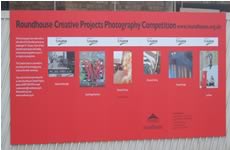 An hoardings is a large outdoor signboard found in places with high traffic such as cities, roads and motorways or on sides of buildings, aiming to show large advertisements to pedestrians and drivers. An hoardings is rented to advertisers. They can also used to screen new housing developments or indoors, mainly in shopping centres. Hoardings are designed to catch attention and therefore only include a few words, are printed in big letters and contain very bright colours. They are used by global brands such as telecommunication companies, banks, movie companies and car manufacturers. Charities and governmental agencies also use them to communicate with the general public.
Being a large format digital printing company, Superchrome uses the latest graphic design and digital printing technologies to produce high quality hoardingss suitable for outdoors and indoors displays, for shop openings, product launches and construction sites. The service provided by our talented team of designers and print specialists is unbeatable and offered at very competitive prices.
WHAT WE ARE OFFERING
Our hoardings solutions are suitable for portable, permanent or temporary structures and include construction hoardings, banners, scaffolding covers and building wraps. We work from digital files and can provide a high resolution scanning service for transparencies and images. Using a drum scanner, we will produce the sharpest colour reproductions up to very large dimensions. We can also offer a graphic design service and will take care of the restoration and retouching of images. Hoardings are printed on vinyl and glued onto boards. Cheaper but not as impact options include the standard 24 sheet made of a series of 24 posters that make up a full sign or prints on blue back. Once the printing is done, our team of professional installers will fit any hoardings according to health and safety regulations.
The BBC, Marks and Spencer, Titanic Exhibition-Trocadero London, Foster and Partners, BPR Architects are some of the companies that have used Superchrome's high quality digital print services for their hoardings.
Get in touch with Superchrome today to find out more about printing an hoardings or to discuss any other requirements. We will give you a quote any time of the day, any day of the week by
020 7237 9333
or fax
020 7237 9444
or email
sales@superchrome.co.uk
. You can even use our Live Chat facility on this website to talk to one of us now.
CONTACT SUPPORT
Every file that you upload will
be managed by an account
representative to ensure that
your order receives the
attention it needs.