Photographic Canvas Print
Photographic Canvas Print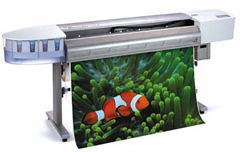 Photographic canvas prints service offered by Superchrome is an exciting option when you want to transform your old photographs into the choicest canvas prints, thereby increasing their life. Any old photograph in black and white or color can now be printed on to a cotton canvas at high or low resolutions. With the advent of digital technology, many clients have been motivated to digitize all old photographs to life size prints and thereby relive the old world nostalgia.
The technique of photographic canvas printing uses digital technology where the original photograph is first scanned. This can be directly used for printing on to a canvas. Prints are also taken directly from a digital photograph. Thus all the data used for printing comes from the computer and not from any intermediary source like a film or slide. This method of photographic canvas printing offered by
Superchrome
is very cost effective. Digital printing can be done on many other substrates as well.
Superchrome can deliver both stretched and unstretched photographic canvas prints. The client can choose from a variety of canvas. Stretched photographic canvas prints are stretched on to a wooden frame and can be directly hung on a wall. Our unstretched canvas prints always come with sufficient border to enable you to frame it later on.
Printed on Canvas + Seal
Plus Design: £95
Discount Prices
Canvas Prints
x1
x4
x10
A2: 420x594mm, 16.5x23.5"
£ 48
£ 154
£ 296
A1: 594x841mm, 23.5x33.25"
£ 65
£ 214
£382
A0: 841x1189mm, 33.2x46.8"
£ 74
£ 235
£ 441
2A0: 1189x1682mm, 46.8x66.4"
£ 144
£ 488
£ 1080
20x30", 508x762mm
£ 68
£ 218
£ 380
30x40", 762x1016mm
£ 76
£ 239
£ 451
60x40", 1016x1524mm
£ 85
£ 265
£ 518
Canvas Prints Stretched (Frames)
x1
x4
x10
2A0 (1189 x 1682)
£ 288
£ 976
£ 2160
AO (841 x 1189)
£ 145
£ 492
£ 1090
A1 (594 x 841)
£ 98
£ 336
£ 780
A2 (420 x 594)
£ 75
£ 252
£ 600
A3 (297 x 420)
£ 55
£ 192
£ 440
A4 (210 x 297)
£ 30
£ 104
£ 230
Attractive features of Superchrome photographic canvas print:
• Superior image definition
• Non fading canvas
• Water resistant
• Scratch resistant
• Life above 25years
• High quality color
• 100% cotton
We offer a turnaround time of just two to three days to deliver your products. Besides photographic canvas prints we also offer abstract canvas prints, art prints and Giclee prints. All unstretched canvas prints will be dispatched in a secure tube made of card board, while stretched canvas prints will come in bubble wraps either by courier or by Royal Mail. All our photographic canvas prints are very competitively priced. Feel free to call us for more information.
If you would like to know more about our photographic canvas print service, any of the projects shown or if you want to discuss any project you have coming up then contact us 020 7237 9333 or fax 020 7237 9444 or email sales@superchrome.co.uk. Our experienced personnel would be able to guide you appropriately.
CONTACT SUPPORT
Every file that you upload will
be managed by an account
representative to ensure that
your order receives the
attention it needs.