Photo Canvas Printing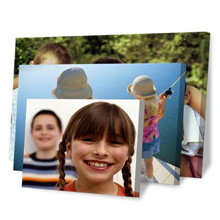 Superchrome is a leading supplier of canvas printing services throughout the UK. We offer an expert service for all types of printing, but photo canvas printing is a real speciality and because of that it is quickly becoming one of the favourite products on offer. Not only are the services very professional and of a high quality, but they lack the hefty price tag of many competitors and the turnaround times are unbeatable in the industry.
To carry out the photo canvas printing and photo to canvas printing, Superchrome employs the latest digital printing technology and the use of highly-skilled and experienced printing technicians who can transform your digital and non-digital images into canvas print of any size and shape. The state-of-the-art facilities and knowledgeable staff lend themselves to a comprehensive service that you can rely on. You will never be let down with the quality of the printing and design at Superchrome.
London Custom Photo Canvas Printing
The photo canvas printing allows customers to send in their digital images which can then be enlarged to fit onto canvas. Otherwise, non-digital images can be scanned in high resolution to also be fit onto canvas in stunning quality. The scanning process is efficient with minimal fuss. If you'd like to add any extras, this can be done at a low cost and with ease. These include:
Borders or bleeds
Finishes
Hanging options
Laminates
Security measures
Mounts and frames
Cheap Photo Canvas Printing Services
The photo canvas printing service is fully customisable so that each individual customer, whether it is a professional photographer or a family looking to add colour to their home, is completely satisfied with the end result.
However, of course it is not only the end result that is top notch! Superchrome understands that customer service should always be high on the list of priorities within a company, and so strive to be friendly and accommodating at all times. They will always meet deadlines and quotes and offer guidance and advice on the options available.
To get more information on photo canvas printing or any of the other service available at Superchrome, continue to browse the website or go ahead and contact the team by telephone on 020 7237 9333 or by email at sales@superchrome.co.uk.
CONTACT SUPPORT
Every file that you upload will
be managed by an account
representative to ensure that
your order receives the
attention it needs.