Personalised Canvas Prints
Personalised Canvas Prints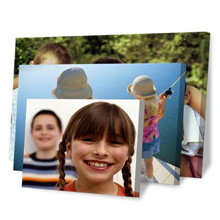 Personalised canvas prints are a great way to see your photographs or designs implemented in a high-quality interior design display. Instead of purchasing a generic picture, customise your own and make a memorable and unique design that will last for years to come and really add ambiance to your home or office. If this sounds like a great solution for your boring walls, then consider cheap personalised canvas prints from leading London-based digital printing company Superchrome. We have been offering high-quality canvas printing and photo to canvas printing services for clients throughout the UK for many years and are sure to have a solution to your every need.
Personalised canvas prints an innovative process by which digital print technology is used to transferring digital images or photographs onto canvas to produce stunning and original works of art. Images can be enlarged or adorned with special effects and the ink is applied directly onto the canvas using only the most state-of-the-art digital technology. The Superchrome premises are well fitted with innovative printing and design technology and this is complemented by the capable staff who have the skills and knowledge necessary to get the job done in a professional and vibrant manner.
London Personalised Canvas Prints from Photos
Personalised canvas prints are a speciality of Superchrome. Every aspect of the process is completely customised, including:
Type of canvas
Size and shape
Finish
Special effects such as borders
Hanging options
Security laminates
Mounting and framing
Personalised Canvas Prints from Digital Photos
The team at Superchrome not only offer customised and cheap personalised canvas print services that are professionally realised, but also a high level of customer care. The design and printing specialists are more than happy to guide you through the endless options, offer friendly advice and answer all of your questions.
Superchrome also makes the process hassle-free by meeting all deadlines and quotes. The expert products do not come with a hefty price tag and instead the costs are extremely reasonable. The turnaround times are also unmatched in the industry in relation to the quality of personalised canvas prints on offer.
If you think that personalised canvas prints would be a great way to show off your photographs or spice up that empty wall in the lounge room, then you don't need to look any further than Superchrome. To get more information feel free to telephone 020 7237 9333 or email sales@superchrome.co.uk.
CONTACT SUPPORT
Every file that you upload will
be managed by an account
representative to ensure that
your order receives the
attention it needs.