Digital Canvas Printing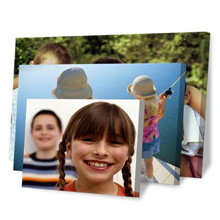 The digital canvas printing available at Superchrome is unmatched in the industry in terms of quality, affordability and versatility. Superchrome is a reputable London-based digital printing company that has been providing digital canvas printing services to a broad array of customers throughout the UK for over ten years. You can rest assured that our highly professional team will find a canvas printing or photo to canvas printing solution to suit your every need, whether it is advertising or interior design.
London Digital Canvas Printing Services
The advantages of digital printing are numerous and diverse. Superchrome can reproduce your digital images onto any surface, but canvas is quickly becoming a favourite product among customers thanks to its elegance and vibrancy. If you need a work of art to brighten up that dull wall in your living room, or a stunning method of promoting your upcoming exhibition or event, then you should certainly consider the digital canvas printing at Superchrome.
We are experts in all forms of digital printing and only use the most innovative design and print technology, to offer you an excellent service with a speedy turnaround and minimum production costs. The digital canvas printing service can be completely personalised so that you may choose from special grade artist canvas or regular standard canvas and then the finish, graphics, hanging option, size and shape that you desire. All the canvas is weather proof and UV protected, so it will last for years to come and will resist fading and tearing. For extra security you may choose to invest in a laminate or mount.
Cheap Digital Canvas Printing and Digital Prints on Canvas
The level of customer care at Superchrome is yet another reason why our customers keep coming back and are always more than happy to recommend our services. We always endeavour to offer:
Accurate quoting and affordable costs
Timely turnarounds and met deadlines
Friendly advice and guidance
Accommodating services for the convenience of all customers
If you would like to know more about the digital canvas printing or any of the other digital printing services available at Superchrome then please telephone 020 7237 9333 or email sales@superchrome.co.uk. Our experienced and friendly team look forward to hearing from you.
CONTACT SUPPORT
Every file that you upload will
be managed by an account
representative to ensure that
your order receives the
attention it needs.