Cheap Canvas Printing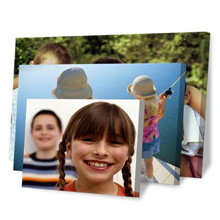 Cheap canvas printing is a speciality of London-based digital printing company, Superchrome. With a solid reputation for low production costs, quick turnaround times, friendly services and high-quality products, Superchrome should always be your first port of call for all London canvas printing and photo to canvas printing services. Whether you need an artistic canvas for your interior design project or a large canvas print for publicity purposes, you can rely on the cheap canvas printing at Superchrome.
London Cheap Canvas Printing from Photos
Our complete range of cheap canvas printing is perfect for conference and trade show displays, retail environments, promotional events and museums and galleries. It is also suitable for a broad array of interior design needs. Previous Superchrome clients are extremely diverse, and we always do our best to find a solution to every customer's individual needs.
The cheap canvas printing at Superchrome will suit any environment and any budget, thanks to the fact that it is completely customisable. The team is always on hand to give advice on the best options available to you and from there they will take care of the complete canvas printing process. It is totally up to you to decide on the shape and size, colour and graphics, special effects, hanging options, canvas material and finish. If you need the help of graphic design experts, we are able to provide that services as well as taking care of the stretching and framing. If you would like to add an extra element of security to your product, we offer laminates and mounting that can resist fading, water damage and graffiti.
Cheap Canvas Printing from Digital Photos
Superchrome believes that customer service should be a top priority and for that reason we always aim to provide all of the below to our customers:
A friendly and welcoming approach to all projects
Accommodating and convenient services
Approachable and accessible advice and guidance
Accurate quotes and cost-effective price tags
Quick turnarounds and met deadlines
The prices at Superchrome are unbeatable in the industry. If you would like to know more about our cheap canvas printing, cheap photo canvas printing and cheap canvas prints from digital photos then telephone us on 020 7237 9333 or email at sales@superchrome.co.uk. We look forward to helping you with your project!
CONTACT SUPPORT
Every file that you upload will
be managed by an account
representative to ensure that
your order receives the
attention it needs.