Canvas Paper Printer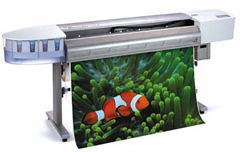 In any artwork, choosing the right printer is most important. At Superchrome, we use premier canvas paper printers to print out images or your works of art. By utilizing the state of the art imaging technology, profiling technology, and canvas paper printer, we can give the desired quality and appearance to your valued photographs and works of art.
In order to print artworks and photo on canvas or paper, utmost care and attention is needed. At
Superchrome
, we use state-of-the-art canvas paper printers to print digital photo files at optimal resolution on high quality and elegant canvas or any other medium. Our canvas paper printer can print your images on rigid or flexible substrates of any size. We are confident that we can offer you stunning prints on canvas. The use of pigment-based water resistant inks and UV resistant inks ensures optimum picture quality and long term stability of your pictures. Cost effectiveness, faster turnaround times, low per-print prices, simplified file transfer process, and stunning professional quality are what our clients can expect while dealing with us.
Printed on Canvas + Seal
Plus Design: £95
Discount Prices
Canvas Prints
x1
x4
x10
A2: 420x594mm, 16.5x23.5"
£ 48
£ 154
£ 296
A1: 594x841mm, 23.5x33.25"
£ 65
£ 214
£382
A0: 841x1189mm, 33.2x46.8"
£ 74
£ 235
£ 441
2A0: 1189x1682mm, 46.8x66.4"
£ 144
£ 488
£ 1080
20x30", 508x762mm
£ 68
£ 218
£ 380
30x40", 762x1016mm
£ 76
£ 239
£ 451
60x40", 1016x1524mm
£ 85
£ 265
£ 518
Canvas Prints Stretched (Frames)
x1
x4
x10
2A0 (1189 x 1682)
£ 288
£ 976
£ 2160
AO (841 x 1189)
£ 145
£ 492
£ 1090
A1 (594 x 841)
£ 98
£ 336
£ 780
A2 (420 x 594)
£ 75
£ 252
£ 600
A3 (297 x 420)
£ 55
£ 192
£ 440
A4 (210 x 297)
£ 30
£ 104
£ 230
Based in the United States and United Kingdom, Superchrome is a leading digital printing company that offers a full line of specialized printing services to the clients at the best prices in the market and with superior print quality.
Our prints are delivered bubble wrapped if stretched and sent by Royal Mail. We assure a fast turn over time of just two to three days. Our high quality canvas photograph prints are very competitively priced.
Entrust all your printing needs to us; you will find it delightful to deal with the friendly and efficient team of Superchrome. If you want to know more about our services or price lists, please browse through our online site. For questions about Superchrome or any other enquiry, we are also available on the phone round the clock. Contact us for quotes.
If you would like to know more about
canvas paper printer
, any of the projects shown or if you want to discuss any project you have coming up then contact us
020 7237 9333
or fax
020 7237 9444
or email
sales@superchrome.co.uk
. Our experienced personnel would be able to guide you appropriately.
CONTACT SUPPORT
Every file that you upload will
be managed by an account
representative to ensure that
your order receives the
attention it needs.