Canvas Epson Printer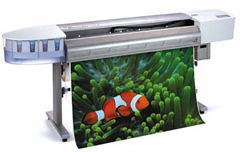 Do you want to make your favorite images and photos look like real paintings on canvas material? Then, we at Superchrome can help you to achieve quality canvas prints with our canvas Epson printer. Based in the UK, Superchrome is a large format printing company providing various forms of printing as well as laminating, encapsulating and mounting services.
We at
Superchrome
realize that choosing the right printer and the printing medium is a very important step to be taken for producing quality prints. Being a premier canvas Epson printer specialist, we can provide canvas printing services using the latest Epson Stylus Pro inkjet printer and water resistant Epson canvas.
We at Superchrome can give you stunningly beautiful prints on both matt and gloss Epson canvas materials at amazingly low prices. The Epson canvases, available in 44" x 12.2m and 24" x 12.2m rolls, are ideal for outstanding photographic and fine art reproductions. Utilizing our 1440 x 720 dpi resolution printing capabilities, we can generate lightfast, gas-fast and water-fast output sizes up to B0+. We use only genuine archival Epson Ultrachrome inkjet inks to deliver reliable and optimal print quality.
Printed on Canvas + Seal
Plus Design: £95
Discount Prices
Canvas Prints
x1
x4
x10
A2: 420x594mm, 16.5x23.5"
£ 48
£ 154
£ 296
A1: 594x841mm, 23.5x33.25"
£ 65
£ 214
£382
A0: 841x1189mm, 33.2x46.8"
£ 74
£ 235
£ 441
2A0: 1189x1682mm, 46.8x66.4"
£ 144
£ 488
£ 1080
20x30", 508x762mm
£ 68
£ 218
£ 380
30x40", 762x1016mm
£ 76
£ 239
£ 451
60x40", 1016x1524mm
£ 85
£ 265
£ 518
Canvas Prints Stretched (Frames)
x1
x4
x10
2A0 (1189 x 1682)
£ 288
£ 976
£ 2160
AO (841 x 1189)
£ 145
£ 492
£ 1090
A1 (594 x 841)
£ 98
£ 336
£ 780
A2 (420 x 594)
£ 75
£ 252
£ 600
A3 (297 x 420)
£ 55
£ 192
£ 440
A4 (210 x 297)
£ 30
£ 104
£ 230
We assure you that we utilize 100% pure cotton canvas and polyester/cotton mix canvas to give you images with a great finish, instant dry versatility, water resistance, image quality and a fade-free display life of many years. Our canvas prints are stretchable without sagging. We have a team of qualified and experienced staff in art, imagery, photography, printing and framing fields. The photography and printing staff are well versed with the operation of various versions of Epson printers including Epson giclee printer and various grades of canvas.
We can provide canvas printing services using various grades of canvas and fine art papers. You can send your pictures and photos on a disc to us. We can transform them into stunning canvas artworks using the state-of-the-art Epson printers.
Our prints are delivered bubble wrapped if stretched and sent by Royal Mail. Contact us for quotes. We assure a fast turn over time of just two to three days. Our high quality canvas printing service using Epson printers is very competitively priced.
If you would like to know more about our
canvas printing service using Epson printers
, any of the projects shown or if you want to discuss any project you have coming up then contact us
020 7237 9333
or fax
020 7237 9444
or email
sales@superchrome.co.uk
. Our experienced personnel would be able to guide you appropriately.
CONTACT SUPPORT
Every file that you upload will
be managed by an account
representative to ensure that
your order receives the
attention it needs.