Canvas Art Prints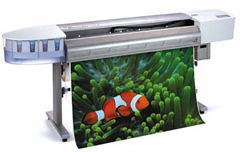 Canvas is now the most commonly used art media. Canvas art is an innovative and unique way of mounting and displaying contemporary art, photographs and digitally created images. A finished canvas art print is waterproof and has a durable surface that resists scuffs, scratches and fading.
Superchrome.co.uk
is a reputable digital printing company with expertise in large format printing such as banner printing, photo printing, poster printing and signage. We provide state-of-the art canvas art printing services for museums and galleries. Our services are quite flexible and there are several options for professional photographers and artists. You can choose to have the canvas art print produced on 100% pure 340gms cotton artist canvas or the instant dry 350gms artist canvas. The former is perfect for the reproduction of high resolution photographs such as wedding pictures and portraits, fine art reproductions, indoor banners and trade show banners. The latter is single sided and coated with a satin finish which is waterfast and without lamination thereby eliminating the need for varnish or spray overcoats and guaranteed for minimum cracks.
In addition we have our standard canvas material - the 180gms matte canvas paper which is specially designed for fine art reproductions and photo quality printing.
Printed on Canvas + Seal
Plus Design: £95
Discount Prices
Canvas Prints
x1
x4
x10
A2: 420x594mm, 16.5x23.5"
£ 48
£ 154
£ 296
A1: 594x841mm, 23.5x33.25"
£ 65
£ 214
£382
A0: 841x1189mm, 33.2x46.8"
£ 74
£ 235
£ 441
2A0: 1189x1682mm, 46.8x66.4"
£ 144
£ 488
£ 1080
20x30", 508x762mm
£ 68
£ 218
£ 380
30x40", 762x1016mm
£ 76
£ 239
£ 451
60x40", 1016x1524mm
£ 85
£ 265
£ 518
Canvas Prints Stretched (Frames)
x1
x4
x10
2A0 (1189 x 1682)
£ 288
£ 976
£ 2160
AO (841 x 1189)
£ 145
£ 492
£ 1090
A1 (594 x 841)
£ 98
£ 336
£ 780
A2 (420 x 594)
£ 75
£ 252
£ 600
A3 (297 x 420)
£ 55
£ 192
£ 440
A4 (210 x 297)
£ 30
£ 104
£ 230
The advantages of entrusting
Superchrome.co.uk
with all your digital canvas art printing needs are many. We make use of the most modern printing technology and printing supplies. Our turnaround time is highly competent varying from 48-72 hours. That's not all. Once the canvas art prints are ready, we offer you a choice of retouching the work and enhancing it to get the best imaging quality out of the display. Superchrome canvases are available in three kinds - stretched, unstretched or framed and the finished prints are available in any shape or size. Stretched canvas art prints are packed in bubble wrap and delivered by First Class Post, Royal Mail Special Delivery or is couriered for delivery the following day. At Superchrome.co.uk we guarantee supreme and best quality for all your canvas art prints with best colour reproduction.
Our prints are delivered bubble wrapped if stretched and sent by Royal Mail. Contact us for quotes. We assure a fast turn over time of just two to three days. Our high quality canvas art prints are very competitively priced.
If you would like to know more about
canvas art prints
, any of the projects shown or if you want to discuss any project you have coming up then contact us
020 7237 9333
or fax
020 7237 9444
or email sales@superchrome.co.uk. Our experienced personnel would be able to guide you appropriately.
CONTACT SUPPORT
Every file that you upload will
be managed by an account
representative to ensure that
your order receives the
attention it needs.