London Banner Advertising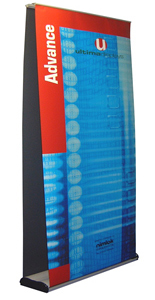 Banner advertising is the ideal means of attracting customer attention in the crowd. The cost-effectiveness and flexibility in design keeps banner advertising the preferred choice of corporate firms worldwide. Superchrome, based in the UK, is a pioneer in the field and enjoys a good reputation among its clients by providing all its advertising solutions in a competitive and affordable manner.
At Superchrome, our
London banner advertising
services are offered for both small and big corporate firms, with a wide range of choices made available in materials and equipments to suit client requirements. All advertisement prints are done on high quality materials of vinyl, canvas, mesh, matte and paper. Depending on client requirements, our banner advertising is offered for building wraps, hoardings, billboards, backdrops, pop up stands and modular display stands, to name a few.
London Outdoor Banner Advertising
At Superchrome, we provide consultation services for our clients to understand their exact requirements and to inform them about our services in the offering. We can help them in choosing the right materials including banners and exhibition stands. Our exhibition stands are highly portable and are suitable for a wide range of occasions including indoor and outdoor displays. With professional designs incorporated in quality banners, our banners can promote your brand and services in a positive way. Using state-of-the-art digital printers, we can print advertisements in high resolutions maintaining high print quality. Our printers can print in
banners for advertising
in both wide and large formats and also in custom sizes and specifications to suit client needs. For outdoor advertising, we use high quality UV resistant inks to make our banners withstand extreme weather conditions, thereby making them resistant to colour fading.
With sufficient professionals and printing equipments, we offer quick turnaround times in UK banner advertising assignments. For more information regarding Superchrome and its banner advertising services in the UK, please contact us on phone at 020 7237 9333. You can also email your queries to sales@superchrome.co.uk.
CONTACT SUPPORT
Every file that you upload will
be managed by an account
representative to ensure that
your order receives the
attention it needs.