Roller Banners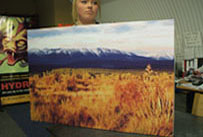 Have versatile roller banners from the leading digital printing company in the UK, Superchrome. We can provide advertising banners featuring simple and effective graphics at cost-effective price tag. Our company is an asset for all types of businesses in that it helps in considerably enhancing their productivity.
Spruce-up your promos, expos, various presentations and events with our
roller banners
. These roller banners with durable, eye catching images can be used for indoor as well as outdoor purposes to advertise your products or services, and increase brand awareness. The
cheap roller banners
we offer are ideal for quick displays as these are easy to carry. They can be displayed anywhere you want. Display our double sided or single sided roller banners on mechanical roller systems or tensioned bar and pole systems.
London Roller Banners and Banner Stands
Want to strengthen the impact of your marketing message? Just convey the message you wish to imprint on your
roller banners
via email to
sales@superchrome.co.uk
. If you wish to print your artwork, just upload the images in any format to us; we will do the rest. Moreover, we have creative designers to transform your design ideas into stunning designs for your roller banners. Superchrome has well-trained, experienced printing experts, who assist in printing temporary as well as extended use
roller banners
. Specify your requirements such as the material, size and color combinations you need, to us. Utilizing the hottest digital printing technology and techniques, we will design the advertising banners you are looking for. To maintain outdoor durability of the prints, we use high resolution ink technology to print out vibrant, crisp and high resolution images.
Call us on phone at 020 7237 9333 to quote your request for roller banners and roller banner stands.
CONTACT SUPPORT
Every file that you upload will
be managed by an account
representative to ensure that
your order receives the
attention it needs.