Promotional Banners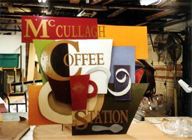 Promotional banners need to be persuasive enough if you are looking forward to enhancing your business through them. At Superchrome, we can design compelling promotional advertising banners at affordable rates. Superchrome, a leading digital printing company in the UK, can give you an unrivalled choice of eye-catching promotional banners as display solutions to advertise or market your brand.
The top-quality
promotional banners
we offer are perfect for any kind of presentation such as trade fairs, tradeshows, road shows, POS, exhibitions and events. Promotional advertising banners from Superchrome can be used for both indoor and outdoor purposes. For special promotional campaigns, we supply banners that suit the specific campaigns.
PVC and Vinyl Promotional Advertising Banners
Superchrome can help you effectively promote your business through seasonal or festive banners, available in various eye-catching designs. If you want to print your existing logos or your own images on the
promotional banners
, we can do it for you in the most striking manner. These customized promotional banners will work wonders for your business. Printing professionals at Superchrome have a wealth of knowledge and experience, which aids them in their profession. Here we can print
promotional banners
on a variety of materials ranging from PVC to more exotic materials. We produce
PVC and vinyl promotional advertising banners
in vibrant and long lasting colors utilizing the latest printing technology and UV fade resistant inks. If required, we add a UV protective layer to make these banners durable and hard-wearing for years. All graphic designs required for your promotional banners are designed by our in-house team of designers.
Take a look at our online gallery to choose the promotional banner of your choice from a wide selection of promotional banners. Superchrome has a dedicated customer service team with sales representatives available for live chat at your request. Contact us on phone at 020 7237 9333. You can also email us at sales@superchrome.co.uk.
CONTACT SUPPORT
Every file that you upload will
be managed by an account
representative to ensure that
your order receives the
attention it needs.