Portable Banners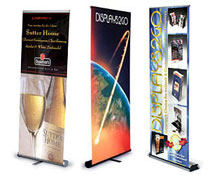 Portable banners are affordable advertisement options that can effectively promote your business, products and services. Superchrome offers a wide range of portable banner displays which can be used for tradeshows and other exhibitions. These products can be used for both indoor and outdoor purposes.
Attractively designed banners can quickly draw customer attention. A banner should be a perfect blending of graphics and words which can speak effectively about the product for which it was created. At Superchrome we provide our customers with interesting layouts, a wide selection of fonts, special effects, borders and graphics for banners. You can customize your banners with a variety of background themes, colours and textured surface of your choice. Portable banners can be used for almost all occasions including birthdays, weddings, reunions, homecomings, sports festivals, store openings, mall-wide sale, and tradeshows among many others. Portable banners from Superchrome are flexible and durable, and can withstand extreme climatic conditions. They require only minimum maintenance, and are easy to transport even if the banners are huge.
We manufacture and supply many types of banners for various promotional purposes. These include:
Full colour printed banners
Architectural and informative banners
Promotional banners
Company advertising banners
When you require portable banners, give us a call. We can help you decide on the most appropriate banner design that will help in achieving your objectives. If you want to know further details about our portable banners, then call us at 020 7237 9333. You can also email us at sales@superchrome.co.uk.
CONTACT SUPPORT
Every file that you upload will
be managed by an account
representative to ensure that
your order receives the
attention it needs.