Pop up Banners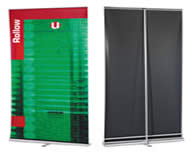 When it comes to portable banner displays, pop up banners are the favorite choice for clients as they offer more flexibility in design and style. Your services or products displayed on these versatile pop up banner displays can certainly make a positive impact on your clients. At Superchrome, we are the experts in the field with a number of cost-effective printing services offered for business firms in the UK.
Pop up banners
are popular in the advertisement sector for having tremendous scope for displaying high resolution advertisements, and is the widely used and preferred medium for corporate presentations and tradeshows. These banners are available in varying sizes and shapes and at Superchrome, we also have pop up banner stands to conveniently display the banners. Our clients can choose their favorite models, suiting their budget and requirements.
Eye-Catching Designs Printed On Pop Up Banner Displays
With the help of our dedicated computers and high-tech printers, we can print
pop up banners
on high quality vinyl, glossy paper, matte and canvas. Since we employ state-of-the-art digital printing technology, our prints always maintain exceptional standards in print quality. The vibrant and eye-catching designs printed on your
pop up banner displays
are guaranteed to draw customers towards your products and services. At Superchrome, we offer
pop up banners
ideal for a wide range of occasions including tradeshows, exhibitions, corporate presentations and product demos, to name a few. Our services are offered for both small and big corporate firms and some of our clients in the UK include retail stores, automobile firms, banking firms and tradeshow organizers.
With competitive pricing and fast turnaround time in print jobs, at Superchrome we maintain a professional approach in our services. For more details regarding Superchrome and its pop up banner printing services in the UK, please contact us on phone at 020 7237 9333. You can also email us at sales@superchrome.co.uk.
CONTACT SUPPORT
Every file that you upload will
be managed by an account
representative to ensure that
your order receives the
attention it needs.