Point of Sale Banners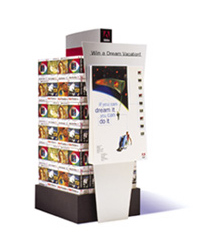 In the world of advertising and promotion, point of sale banners are high-impact and cost-effective options for increasing in-store revenues. Superchrome offers reliable and high quality service strictly keeping within the time limit and budget and this has made us a leader in the advertisement industry. Our point of sale banners will surely set you apart from your competitors.
Bring your brand to life! We have the banners that suit your needs and you can choose the ones you want from a large selection we have here. Our
point of sale banners
can be used in conferences and exhibition venues, showrooms, reception areas, advertising campaigns, sponsorship events and various POS. High quality
point of sale graphics, displays and banners
will surely grab the eyes of your prospective customers and help you enhance your business potential.
Point of Sale Displays and Banners
Superchrome offers custom graphic design services for its clients. Our designers have the know-how to communicate your thoughts and business ideas in an effective way. We can print your
point of sale banners
on a variety of substrates, suitable for all types of indoor and outdoor display requirements. Our production center is equipped with the most modern printing technologies to print single and double-sided point of sale graphics, displays and banners in an eye catching manner, maintaining high resolution. To make your images and messages look lively, we utilize UV solvent inks. Availing of our
point of sale displays
will surely save your time and money.
Just have a look at our online gallery to view some of the projects that we have undertaken. If interested in our projects, dial 020 7237 9333 or forward an email message to sales@superchrome.co.uk to place orders for top quality point of sale banners at the industry's most competitive price tag. Speak with one of our online representatives, who will answer your queries.
CONTACT SUPPORT
Every file that you upload will
be managed by an account
representative to ensure that
your order receives the
attention it needs.