Personalised Banners
Personalised banners are the ideal display solutions to add to the color of an event or function. With less costs involved in the process, getting your ideas and messages printed on banners is much simpler and affordable. Superchrome is a pioneer in this field with banner printing services offered in a highly customized and affordable manner for its clients in the UK.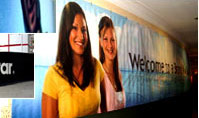 At Superchrome, we can print impressive
personalized banners
with your messages, themes and images as the main subjects. Be it your birthday, your wedding anniversary, or other personal/business events, we can print banners according to the occasion. We can also include your personal photos in these banners to get the immediate attention of your well wishers. To help us in the process, we have with us high quality digital printers which can print text, images and photos in stunning quality and clarity. We are specialists in personalised christening banners, engagement banners, cheap personalised banners, personalised banners for birthdays, personalised photo banners and personalised wedding banners
Personalised Party Banners
To ensure the durability of our banners, we print all our
personalised banners
only on high quality materials such as vinyl, fabric and matte. For ensuring resistance to color fading on prolonged use, we print all our banners with UV resistant and fade resistant inks. The combination of quality materials and weatherproof printing makes our banners highly suited for indoor and outdoor purposes. Depending on the requirements of our clients, we offer our personalised banner printing in varying sizes and specifications with wide format printing also provided. With sufficient technical staffs and equipments, we can do all our personal banner printing jobs in a time bound manner assuring faster turnaround time. We also have excellent packaging services for having your
personalised banners
delivered in a reliable and safe manner.
So when personalised banner printing is your requirement, at Superchrome, we are always at your help. For more information regarding Superchrome and its personalised banner printing services in the UK or for personalised christening banners, personalised engagement banners, cheap personalised banners, personalised banners for birthdays, personalised party banners, personalised photo banners or personalised wedding banners, feel free to contact us on phone at 020 7237 9333 or by email at sales@superchrome.co.uk.
CONTACT SUPPORT
Every file that you upload will
be managed by an account
representative to ensure that
your order receives the
attention it needs.