Outdoor Vinyl Promotional Banners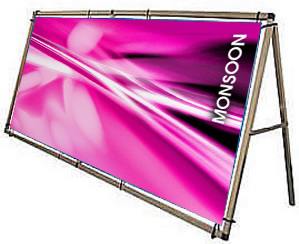 When cost-effective outdoor advertising is your requirement, vinyl promotional banners are the ideal choice. Equipped with the latest technologies in printing, Superchrome is a leading provider of digital printing services in the UK. Our expertise in the field clearly reflects in our banner printing jobs and our outdoor vinyl promotional banners are the affordable choice for promoting your products and services.
Outdoor vinyl banners
play a vital role in getting your service or product reach the public through advertisements. These banners offer much flexibility in installation as they can be printed and placed in either horizontal or vertical positions depending on the contents or availability of space. At Superchrome, we can help you get your promotional banners printed in high resolutions with excellent graphics incorporated to get immediate customer attention.
Outdoor Vinyl Banners - Custom Vinyl Banners
Outdoor vinyl banners
provided by Superchrome maintain high quality standards and they are highly resistant to extreme outdoor weather conditions. The UV resistant inks we use help our banners to stay fade resistant on prolonged exposure to light and heat. Having the latest state-of-the-art digital printers capable of printing in large format and wide format, we can print outdoor
vinyl promotional banners
in varying sizes, specifications and color combinations for our clients. With computer controlled precision in printing, all our outdoor banners feature excellent print quality and design. Apart from providing outdoor advertising,
vinyl promotional banners
are also ideal for exhibitions, public events, sporting events, entertainment functions and more. Whatever may be the occasion, our graphic designers and professionals can print your messages on vinyl promotional banners in a highly professional manner within minimum turnaround time.
So if you find that our vinyl promotional banners, custom vinyl banners, large vinyl banners or outdoor advertising banners are just the options for your advertisement needs, feel free to contact Superchrome on phone at 020 7237 9333. You can also email your queries to us at sales@superchrome.co.uk.
CONTACT SUPPORT
Every file that you upload will
be managed by an account
representative to ensure that
your order receives the
attention it needs.