Mounted Banners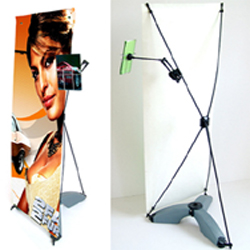 At Superchrome, we can create all types of banners from huge building hangings to mounted banners on stands which are portable and ideal for use at exhibitions or in retail locations. The frames used to mount a banner give you a variety of fixing alternatives. These frames help the banner to maintain a long life. Mounted banners can be used both for indoor and outdoor applications in combination with banner track and suspension systems.
Banners are truly a cost-effective and versatile form of advertising. Big, bold, hanging or freestanding banners help in promoting seasonal business or special events such as tradeshows or product launches. At Superchrome, we create well designed banners with a professional edge. These products are sure to enhance your business image and act as powerful promotional tools.
The various types of mounted banners we offer are:
Wall mounted banner
- Wall mounted banners can be used for a number of campaigns. Install one banner or many to stand out in the crowd.
Pole mounted banner - Pole mounted banners have pockets, sewn hems and pole mounting brackets. It is a temporary installation, but is unobtrusive and can be left in place even after use.
Ceiling mounted banner
- The ceiling mounted banner can be narrow or wide, long or short and is held by one or more clips. The top and bottom horizontal bars make sure the display always hangs straight and unlike most ceiling systems, are invisible from the front.
Ground mounted banner – They are mostly used for traffic signage where flexibility is required to update the message. Flexible fiberglass upright poles and removable horizontal rods allow screen-printed and digital banners to be changed easily.
Contact us today and our customer service representatives working round the clock will help you to know more about our mounted banners and other services. We are available on phone at
020 7237 9333
and by email at
sales@superchrome.co.uk
.
CONTACT SUPPORT
Every file that you upload will
be managed by an account
representative to ensure that
your order receives the
attention it needs.