Advertising Digital Banners
Digital Banners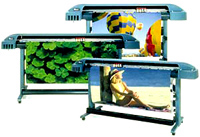 Among the various options available today for cost effective advertising, digital banners are in the forefront. Banners are the ideal choice for displaying products, services and events in a colorful and eye-catching manner. Being a leader in banner printing, Superchrome can greatly help in getting your business ideas reach the public. So, opt for our economical and efficient digital banner printing services.
Expressing your business ideas through banners is not difficult any more, thanks to modern technological advancements. At Superchrome, we have dedicated state-of-the-art computers and printing equipments with us which are capable of printing images and advertisements in a highly effective manner. Our high quality digital printers can print images, texts and your corporate logos maintaining exceptional image quality and high resolution.
Advertising Digital PVC, Mesh and Vinyl Banners
At Superchrome, we print our
digital banners
using high quality UV resistant inks and hence our prints can withstand harsh outdoor environments. Our digital banner prints are offered on a wide range of materials which include high quality vinyl, mesh, fabrics and canvas. Our clients are offered the choice to have their banners printed in varying sizes and specifications that suit their requirements. We can print banners which are suitable for every environment from indoor retail store displays to outdoor corporate events. Since we use cutting edge technologies in printing, all our digital banner prints are done in a highly affordable and reliable manner. Our digital printers are capable of printing banners at higher speeds and hence we are able to provide our services with speedy turnaround time of 24 hrs. Our digital banner printing services are being utilized by a wide range of clients in the UK for various occasions including tradeshows, exhibitions, product demonstrations, corporate events and public functions, to name a few. We also have pre-designed
digital banners
with us for use in weddings, birthdays, festivals and anniversaries.
At Superchrome, we also provide consultancy services for our clients who wish to get their ideas implemented in design. For further details regarding our customized printing services and digital banners, please contact us on phone at 020 7237 9333. You can also email us at sales@superchrome.co.uk.
CONTACT SUPPORT
Every file that you upload will
be managed by an account
representative to ensure that
your order receives the
attention it needs.