Banner Printing Services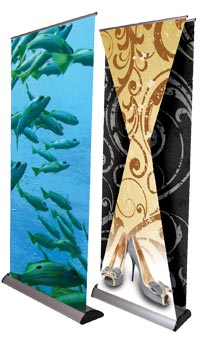 Banners are the ideal medium used worldwide for displaying products, services and messages in a cost-effective manner. Due to their moderate size, banners are more portable compared to fixed type display systems and are hence the best suited medium for short term advertisements. Superchrome, located in the UK, is a leader in banner printing services, offering competitive services for its clients.
London Banner Printing Services
At Superchrome, we offer our
banner printing services
for a wide range of clients which include business firms, charity organizations, public institutions, colleges and non-profitable organizations. Whatever may be your concepts or requirements in banner printing, we can implement them in design and get them printed in the most eye-catching manner.
Large Format Banner Printing Services
Our professionals at Superchrome are equipped with the latest tools in design and print technology and can thus create banners that are unique in design and style. With the help of our high quality state-of-the-art digital printers, we can print banners in varying sizes, with large format and wide format printings also in the offering. At Superchrome, we always take great care in ensuring the durability and quality of our prints. To make our banners withstand harsh outdoor environments, only high quality materials such as vinyl and canvas are being used. For making our prints stay resistant to color fading, we print our banners with special UV resistant inks which are tested and proved for long lasting performance.
Our banner printing services are offered for both indoor and outdoor needs. Apart from serving for outdoor promotions, our banners also have their usage indoors, mainly in retail stores, supermarkets, tradeshows, and exhibitions. We also have with us pre-designed banners which are custom built to suit occasions such as weddings, birthdays and receptions.
For all our clients, we offer faster turnaround time with efficient packaging and delivery systems also included in the services. For more details regarding our London
banner printing services
offered by Superchrome in the UK, contact us on phone at
+44 207 237 9333
. You can also email your queries to
sales@superchrome.co.uk
.
CONTACT SUPPORT
Every file that you upload will
be managed by an account
representative to ensure that
your order receives the
attention it needs.