Banner Maker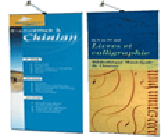 Superchrome is one of the leading large format digital printing companies in the UK, specialized in full service banner making. As a leading banner maker, our aim is to promote your business substantially. Our company is dedicated to providing customers with quick, innovative and cost-effective solutions. We focus on our customers promotional requirements and offer them state-of-the-art banners that are designed by our professional designing team.
Superchrome's banner makers offer you unique and professional banners according to the needs of your company. Banners are ideal for a wide range of marketing activities such as marketing campaigns, tradeshows, product launches, outdoor events, road shows, sports events, advertising and even exhibitions. As a renowned banner maker, Superchrome guarantees banners featuring high definition images printed using ultra violet inks. Our banners are printed in a range of sizes and styles using a range of vivid colors and excellent finishing options.
When you opt for our services, you benefit from the following:
Best turnaround time
Easy online banner creation
Instant proofing and custom graphics design
Effective cost
Superchrome is an ideal banner maker utilizing high end technology and the most modern equipments to produce high quality prints at effective cost. Our banners are designed to hold the customer's attention and convey your message within minimum time. Besides advanced technology, Superchrome has enthusiastic and experienced professionals with a real interest in their work. These creative professionals make certain that the banners they design effectively communicate your marketing message to your customers. Besides, they also customize the banners according to your requirements, giving expression to your own ideas. For more details about our services you can contact us on phone at
020 7237 9333
or by fax at
0207 237 9444
. Send your emails to
sales@superchrome.co.uk
.
CONTACT SUPPORT
Every file that you upload will
be managed by an account
representative to ensure that
your order receives the
attention it needs.