Banner Exhibition Stands
Are you looking for an affordable and portable medium for advertising your corporate services or products? Then banner exhibition stands provided by Superchrome match your needs. Superchrome is a reputable firm in the UK providing ideal advertising solutions, with quality banner exhibition stands and digital printing services in the offering. Here you have wider choices made available within your means.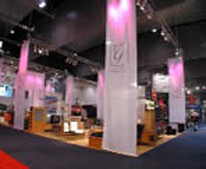 At Superchrome, all our exhibition stands maintain international standards in built quality and workmanship. The banner stands we provide include retractable banner stands, double sided banner stands and pole type banner stands, to name a few. Our banner exhibition stands are ideal for a wide range of occasions which include tradeshows, exhibitions and promotional events. They also find their applications indoors in retail stores, automobile shops, corporate offices and buildings.
Some of the models in our portable range of banner exhibition stands include:
Roller banner stands
Pop up banner stands
Twist banner stands
Modular display stands
Every exhibition stand provided by Superchrome is unique in design, style and features. We also have additional accessories for banner stands which include exhibition lighting, carry cases, literature racks and exhibition furniture. At Superchrome, we can also provide assistance to our clients in selecting the right exhibition stands and accessories for their business promotional requirements.
With digital printing services also provided at Superchrome, we can fully satisfy client requirements for affordable digital printing and advertising. For ensuring durability and quality in the finished prints, we use only high quality materials such as vinyl, canvas, glossy paper and matte for banners. We can make all our client banner exhibition stands with their high impact banners stay unique and attractive in the crowd.
At Superchrome, we offer all our services and products in accordance with client requirements and budgets. Our turnaround time is the best compared to other service providers in the field. For further information regarding Superchrome and its banner exhibition stands, don't hesitate to call us on phone at
020 7237 9333
. We can also be contacted on email at
sales@superchrome.co.uk
.
CONTACT SUPPORT
Every file that you upload will
be managed by an account
representative to ensure that
your order receives the
attention it needs.